Mission and Program Related Investments
The Impact Cycle
Mission and program related investments enable AJL to invest directly in both nonprofit and for-profit organizations that support families and youth in a variety of ways and generate below-market returns. The funds are then returned and recycled back out into the community. AJL is dedicating up to 10% of our portfolio - approximately $1.6 million - to MRIs and PRIs at below market interest rates and flexible terms.  If your organization is interested in discussing an MRI or PRI opportunity, please reach out to Kristi Petrie at kpetrie@ajlfoundation.org.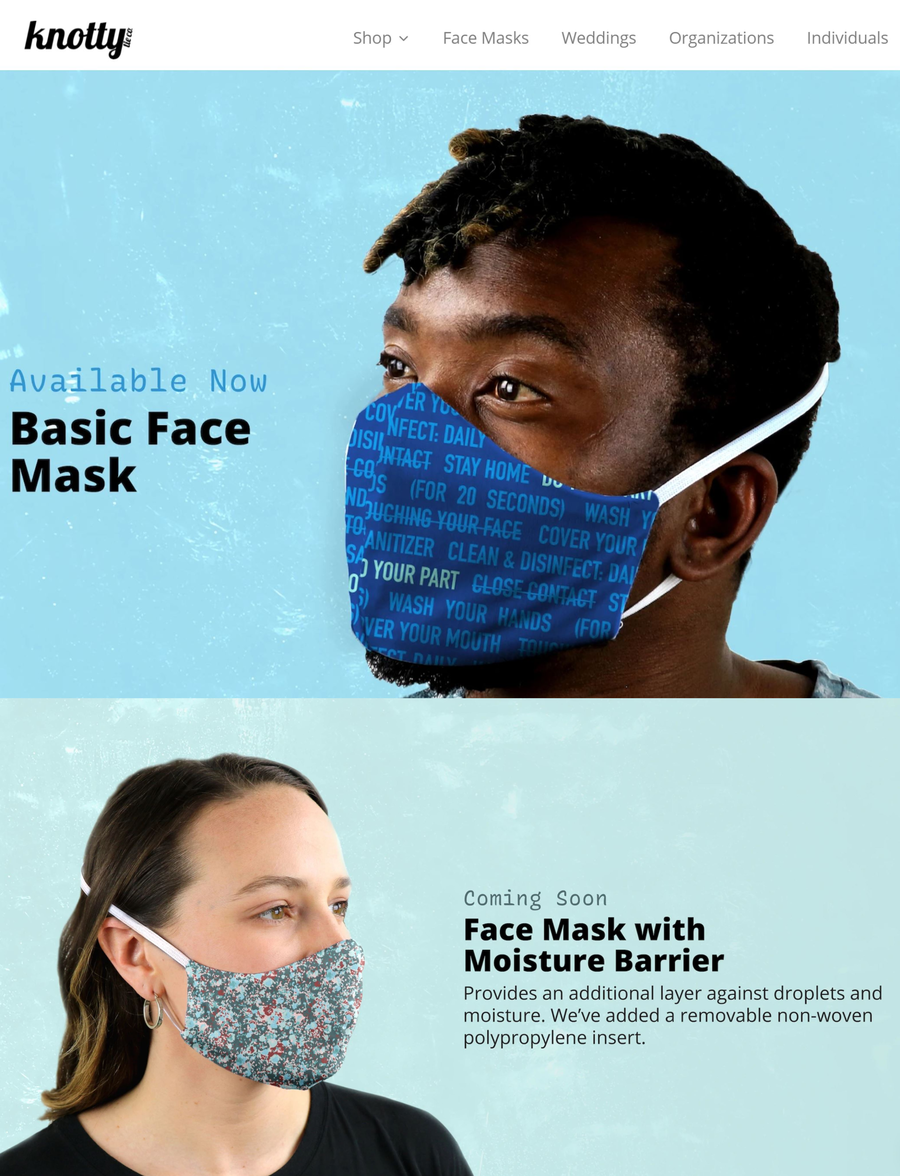 Program Related Investment
Knotty Tie Co.
THE CHALLENGE: Knotty Tie Co. is a mission-driven company that employs refugees to make custom, handmade ties and scarves using sustainable fabrics and an eco-friendly process. They pay their employees a living wage and provide benefits and opportunities for growth enabling employees to support their families. The COVID-19 pandemic caused a significant loss of sales and if no changes were made, Knotty Tie Co. would have had to close their doors and lay off staff. COVID-19 also left Colorado, and the nation, facing a shortage of face masks for people during a pandemic-level viral outbreak that is overwhelming our healthcare system. 
THE OPPORTUNITY: AJL made a $75,000 equity investment in Knotty Tie Co. which enabled the company to avoid closing and shift to manufacturing reusable, washable face masks for Coloradans affected by the COVID-19 pandemic.
THE IMPACT: 1) Knotty Tie Co. continued operations and generated revenue to keep staff employed through the COVID-19 crisis, 2) Knotty Tie Co. can manufacture 500+ reusable, washable face masks per day to help address the shortage and protect individuals affected by the COVID-19 pandemic, 3) Additional product line was created which could potentially generate future revenue 4) An equity investment provided cash for growth immediately and to save their mission, instead of a loan restricting cash flow. As they are growing, they have room to continue to invest cash savings from debt payments back to growth, which in turn grows their mission and impact, 5) AJL has potential for upside and recoup, and this investment also boosts Knotty Tie Co.'s credibility as a social enterprise which increases chances for future impact-oriented Series A funding. Read more about this investment here.
Program Related Investment
SistahBiz Loan Fund
The Challenge: Sistahbiz Global Network provides affordable options for coaching, training and services to help Black women grow, succeed and play big in business, but despite having investment-ready businesses at graduation, many Sistahbiz clients are denied small business loans or venture capital funding due to deeply embedded systemic bias and barriers to accessing capital. 
The Opportunity: AJL issued a low-interest loan of $100,000 at 2% interest over 8 years to seed the Sistahbiz Loan Fund, the first loan fund dedicated to Black women entrepreneurs in the nation, to provide small business loans.

The Impact: 1) Black women entrepreneurs in Colorado have access to small business loans ranging from $500 to $50,000 at 7% - 12% interest over 5 years, 2) early commitment to the fund of $250,000 with the goal to reach $1M in year 1 and 3) an opportunity to raise awareness and directly address systemic bias and barriers in our financial systems both nationally and locally in Colorado. Read more about this investment here.
Program Related Investment
CASA of the 7th Judicial District
The Challenge: CASA of the 7th Judicial District was facing increased rent on space they had outgrown, and it made more financial sense to purchase an office building. However, CASA had recently completed a capital campaign to raise money to build affordable housing units for youth aging out of foster care. Their donors were tapped, and with the small down payment they could afford, they were not getting great terms from the lender for a mortgage. 
The Opportunity: AJL partnered with CASA to make a low interest loan of $100,000 @ 2% interest over 10 years for a down payment to purchase a building.
The Impact: CASA was able to 1) show a lower debt/equity ratio on the purchase which resulted in a better interest rate from traditional lenders, 2) save approximately $60,000 in interest over the life of the mortgage, 3) secure a building that allowed them to enhance services, create a resource center and job training for youth and generate revenue.  Read more about this investment here.