It is with gratitude and excitement that we introduce the 2023 Grantmaking Committee for AJL! Families and youth. Community organizers and professionals working in education and human services. Teachers, artists, business owners, policy advocates, immigrants, founders, folks from government and the private sector, parents and neighbors. We are excited to come together to identify and distribute twenty $20,000 general operating support grants to nonprofit organizations doing incredible work supporting the communities we serve. To learn more about our grantmaking process and criteria click here. Otherwise, meet the committee!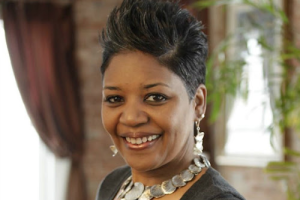 Dr. Dwinita Mosby Tyler
Facilitator for the Grantmaking Committee
Dr. Dwinita Mosby Tyler is facilitating AJL's 2023 Grantmaking Committee and is the Chief Catalyst and Founder of The Equity Project, LLC – an organization designed to support organizations and communities in building diversity, equity and inclusion strategies. She is the former Senior Vice President and Chief Inclusion Officer for Children's Hospital Colorado – the first African American woman to hold that position in the organizations 100+ year history. She is also the former Executive Director of the Office of Human Resources for the City and County of Denver – the first African American woman to hold that position in the 63+ year history of the agency. Dr. Mosby Tyler, a consultant accredited by the Georgetown University National Center for Cultural Competence, is nationally recognized for her equity work with non-profit, community, government and for-profit organizations.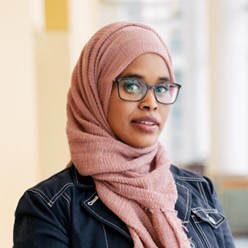 Farduus Ahmed 
Instructor, Department of Psychiatry
University of Colorado School of Medicine
Ms. Ahmed, MSW, SWC, is an instructor in the Department of Psychiatry at the University of Colorado School of Medicine. She is a mental health clinician and educator who provides culturally and linguistically responsive, and trauma-informed clinical service to refugee/immigrant clients and their families.  Farduus also leading a three-year project funded by the U.S. Department of Justice to expand services, education, and outreach on Female Genital Mutilation/Cutting (FGM/C).  Most recently, Farduus founded International Survivors and Families Empowered (iSAFE) –   iSAFE was developed to outreach, engage, educate, and empower women and families -where she now serves as Executive Director. Ms. Ahmed is an experienced community leader, advocate, researcher, and consultant who brings more than a decade of engaging with diverse populations in areas of women's health, newcomer health and mental health.  She specializes in consultancies that support refugees and immigrants, offering expert opinion, program analysis, and recommendations to service providers and systems to promote the self-sufficiency, integration and empowerment of refugee women and their families.  Her work includes:  the Colorado Governor's State of Colorado New American Community Advisory Committee, Denver Police Department Chief's Community Advisory Board, Refugee Review Board for the Society of Refugee Healthcare Providers in North America, the Refugee Action Coalition of Colorado, AJL Foundation Grantmaking Committee, Colorado Refugee Speakers Bureau Committee, the Colorado COVID-19 Equity Taskforce, and the End FGM/C US Network Steering Committee. Ms. Ahmed is a skilled public speaker who provides extensive educational offerings in the community.
Farduus' certification as a professional interpreter/translator and fluency in Somali and English extends her capacity to engage with the East African diaspora communities. She was awarded the Immigrant Liberty Award for outstanding service to the immigrant community in 2017.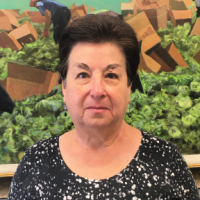 Flora Archuleta
Board of Directors 
AJL Foundation
Flora Archuleta is a San Luis Valley native, who has worked in the non-profit sector for the past thirty-five years. She has been employed as the Executive Director with the San Luis Valley Immigrant Resource Center for the past twenty years and is recognized as an Accredited Representative with the Department of Justice.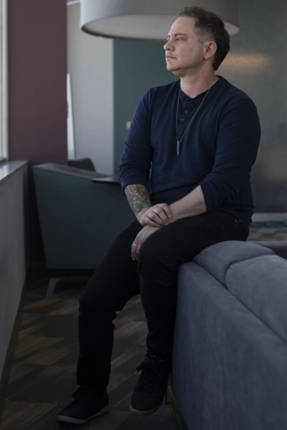 Levi Arithson
Program Manager, LGBTQ+ Equity
Denver Public Schools
Levi Arithson (he/they) is currently the Program Manager of LGBTQ+ Equity for Denver Public Schools. His work centers on LGBTQ+ students, families, and staff with a deep focus on Joy, Visibility, and Belonging in Denver Public Schools. A former digital arts teacher at RiseUp Community High School (DPS), Levi believes in cultivating social change through collaborative power and expression through the arts. Levi was also the first manager of youth programs at Out Boulder County from 2008-2014 and a proud member of the activist theater troupe, Vox Feminista, from 2005-2018.  Their experience of growing up Jewish, along with coming out as a teenager in Tulsa, Oklahoma in the 1990's has had a significant impact in his drive towards equity and belonging. As a young person in Oklahoma he had an acute sense of not belonging. Resisting heternormative and other mainstream narratives about "what counts as normal," was an everyday experience throughout their young life, something he carries with him in the present.
Levi holds an undergraduate degree from the University of Oklahoma in Journalism and a Masters in Visual Culture and Gender Studies from the University of Colorado at Denver. He lives in West Denver with his wife and son and enjoys hot yoga, cooking, and cycling.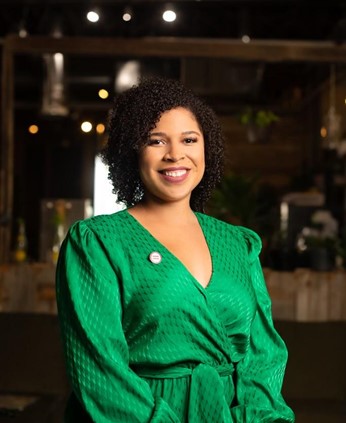 Leressie Ashley
Innovation and Entrepreneurship Project Manager
Denver Economic Opportunity and Development Office
As someone who lives to create opportunities for others and provide positive life experiences, Leressie Ashley knew early on in life that's just what she was born to do. Leressie Ashley fulfills her passion through her work as an Innovation and Entrepreneurship project manager at the Denver Economic Opportunity and Development Office, where she is able to directly contribute towards closing the gap for BIPOC Entrepreneurs in the City of Denver. She holds a BA in Psychology from the University of Colorado Denver and is an alumni of the 2020 class of the Urban Leadership Foundation of Colorado Connect program. She serves as a mentor to high school-aged apprentices and young adults, providing them with the competencies and skills they need to have successful careers. In 2020, she was recognized statewide by the Colorado Department of Workforce Labor and Employment as an exemplary mentor.
In her free time, she enjoys being in the mountains and outdoors with her doggie Roux, traveling, spending time with family and friends, and helping others through acts of service.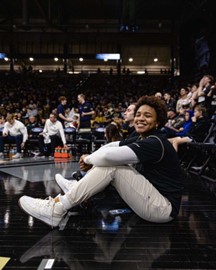 Zion Atwater
Student
University of Colorado - Boulder
Zion Atwater is currently finishing her junior year at the University of Colorado - Boulder, studying Media Production and Advertising. She was born in Bloomington, IL but completed middle school and high school in Vero Beach, Florida. Zion has found a passion for creating media through videography and photography. She strives to use the art of storytelling to create compelling works that offer spaces for productive discourse, diversity, and understanding.
Additionally, Zion strives to serve her community and environment. In the past, she has partnered with the non-profit ORCA (Ocean Research & Conservation Association, INC.), whose mission is "to protect and restore aquatic ecosystems while providing citizens with the guidance and support they need to make measurable environmental improvements..." Currently, she is partnered with The Education Hub, a non-profit organization focused on helping students in rural public schools, located in North Carolina, connect with local community businesses and organizations, while bolstering their access to college and career advising resources. Zion has worked for the past 2 years as a student content creator for the University of Colorado's athletic teams. Through this program, she has excelled in video production to create media content for all CU's athletic teams.
Zion's cultural heritage and identity has certainly contributed to her passion for storytelling. While attending predominantly white institutions, she fostered a strong passion for voicing her values in diversity, equity, and inclusion. Growing up in these spaces also influenced her admiration for cultural heritage and ethnic backgrounds. Her mother immigrated from Belize while her father grew up in Chad, Africa. Relating to this background while also identifying as a member of the LGBTQIA+ community has shaped Zion into a person who uses her voice to advocate for those who celebrate their differences.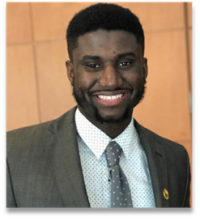 Ousman Ba
Youth Empowerment Program Facilitator
African Leadership Group
Ousman Ba is originally from Senegal, and was raised in Denver, Colorado. A first-generation college graduate at Colorado State University with a degree in political science and international studies. Upon graduation, Ousman committed to a year of service with AmeriCorps City Year, where he worked at Miami Central High School preparing students with the social, emotional, and academic skills and mindsets to succeed in school and in life. After City Year, he moved back to Denver and worked in the banking industry as a treasury management representative with FirstBank. During his time at FirstBank, he volunteered with African Leadership Group (ALG) as the Youth Empowerment Program facilitator. After two years as a volunteer, he joined the ALG team as a Program Coordinator. Past graduate of the Leadership Africa Program with African Leadership Group and currently is part of Leadership Aurora class of 2023. He serves on the Board of Ednium Collective and Board of Vanguard Classical school. Ousman is passionate about serving the community, loves sports, reading, traveling and enjoys time with family and friends.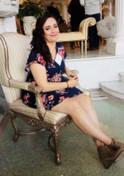 Cristalray Dominguez
Co-Founder, Shooting Stars Cultural and Leadership Center
Cristalray Dominguez is a lifetime resident of Alamosa CO. She is a mom of 4 girls and a grandma of 3. Cristalray lost her mom to cancer when she was 6 years old and was raised by her Grandma Tillie who was 63 at the time. Her grandma instilled in her the meaning of giving back. She taught her how important it is to feed others. In 2018 Cristalray and took FLTI, Family Leadership Training Institute. Her community project was a cooking class called Cooking Away with Mama Ray. In her class she taught young people how to make meals out of what they had in their home.
In 2019, Cristalray, alongside 3 other communities in the San Luis Valley created Soul Players of the Valley. Were 4 communities coming together to be a healthy and equitable community. Cristalray, has multiple certificates, FLTI, Leadership on the Ground and Creative Leadership Institute. In 2020 Cristalray received Latino Community Foundation of Colorado Philanthropy Award.  In May of 2022, Cristalray and husband created Shooting Stars Cultural and Leadership Center a local non-profit geared to up lifting and enriching our community through leadership and cultural relevant programming. Cristalray's main goal is to empower Latina Women just like her to find their voice and role in bettering their family and community.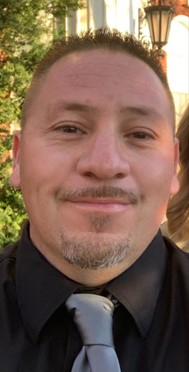 Jamie Dominguez
President, Five Star Riders Car Club
Co-Founder, Shooting Stars Cultural and Leadership Center
I grew up in San Luis Valley, I have been here my whole life. While life was hard growing up Hispanic and being around substance abuse and systematic racism and oppression I was able to fight my way through school and a life of poverty in order to get where I am today. Once I figured out that I had the ability to fix myself and stop depending on society and blaming society is when I truly stepped into my role of leadership and it wasn't until then that I had the ability to start to heal my culture and community from within. We all have the ability to succeed and heal one another but until we break down the walls that are hindering us we will be a part of the same story of poverty and oppression.
I am the president of the Five Star Riders Car Club, our car club has been giving back to our community for 10yrs and running this club is the foundation for all our work. I am also the founder alongside my wife of Shooting Stars Cultural and Leadership Center, our own non-profit focused on helping to build leaders in our own community. I am currently a part of multiple community engagement research projects that focus on cultural/generational backgrounds associated with community engagement.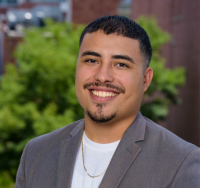 TeRay Esquibel
Executive Director, Ednium
TeRay Esquibel is a DPS graduate from Abraham Lincoln High School. He was awarded the Daniels Fund Scholarship that afforded him the opportunity to attend the University of Denver where he earned his degree in Business Management. While attending DU, TeRay dedicated himself to breaking down barriers to higher education within his community. After college, TeRay went on to participate and work with the El Pomar Foundation Fellowship program, and eventually landed back at DU as an Admission Counselor serving Denver and Aurora Public Schools. In this role, TeRay engaged with the Denver community, to empower students (and their families) on their journey to furthering their educational horizons by acting as a liaison for the University and external organizations dedicated to increasing the enrollment and persistence rates for students coming from traditionally underrepresented communities. Most recently, TeRay held the title of Partner of Community Partnerships and Advocacy at the Denver based philanthropic organization RootED. In this role, he led research, strategy, and community grant making. This is where the seed of Ednium: The Alumni Collective was planted and watered. Ednium is an action focused community development organization that partners with Denver Public School Alumni to change the way the city educates and reinvests in its homegrown talent. TeRay now acts as the founding Executive Director of Ednium.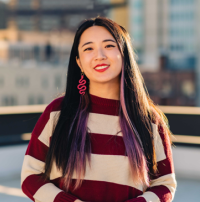 Joie Ha
Founder
CORE: Community Organizing for Radical Empathy
As the daughter of refugees, Joie Ha (she/they) has always endeavored to do more good for more people. She is the founder of CORE: Community Organizing for Radical Empathy, a DEI consulting firm that also serves as a community organizing agency. She has a B.A. in Anthropology and a M.A. in Development Practice with a focus on holistic methods of treating mental health for Vietnamese refugees. She has completed development work in Malaysia as a Community Development Officer, and Cambodia as a researcher regarding how hip-hop can create fictive kin for youth. With over 15 years of local organizing experience in Colorado, Joie often engages in community projects with focus on anti-racist work, civic engagement, and the intersection of art and activism. In her community, she currently sits as Vice Chair for Colorado Asian Pacific United, and is a commissioner of the Denver Asian American Pacific Islander Commission.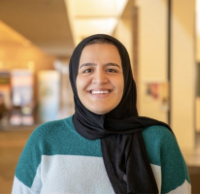 Nadeen Ibrahim
Organizing Director 
East Colfax Community Collective
Nadeen M Ibrahim is the Organizing Director at the East Colfax Community Collective. She has more than 7 years of community organizing experience, largely in the Muslim community and its intersections. Her passion for community organizing is driven by her immigrant, Palestinian, Muslim, and rural identities. Through her community organizing, she co-founded the Muslim Youth Empowerment Conference, Denver Day of Dignity, and the Colorado Muslim Leadership Council. Nadeen serves on the CIRC Action Fund board, New Americans Community Advisory Committee, and the Muslim Youth for Positive Impact board. She is a recipient of many community awards, including the Spring Institute Intercultural Champion Award and Council on American Islamic Relations Call to Service Award.
Nadeen holds a Bachelor of Science in public health from the University of Colorado – Denver and a Masters of Public Policy from the University of Oxford, England. As a community organizer, she has always strived to better understand and recognize social determinants of health, especially around housing, in hopes of driving policy change. In her free time, she loves to spend time outdoors, travelling, and exploring the rich, diverse food cuisine Denver has to offer.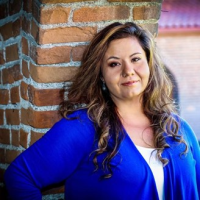 Lisa Lucero
Director of Implementation
San Luis Valley Area Health Education Center
Lisa Lucero is the Director of Implementation at the San Luis Valley Area Health Education Center (SLV AHEC). She is a San Luis Valley native and a graduate of Adams State University with a Master's in Business Administration. During her extensive twenty-five-plus years at SLV AHEC, she has implemented groundbreaking projects serving the local San Luis Valley community, including:  SLV AHEC Summer Health Careers Institute – a program for high school students interested in health care careers,  Mi Salud y Mi Familia – a program that helps Latino communities become better consumers of health and healthcare. During the pandemic, she helped to establish non-congregate shelters for people experiencing homelessness. She acts as a community connector in San Luis Valley for the CO-CEAL grant.
Currently, she is developing a health equity coalition in the San Luis Valley, offering citizens a voice in all social determinants of health to improve service delivery in the San Luis Valley. A project in development that showcases her project management of grants, and the grant-making process is the creation of a local language justice co-op. The purpose is to create capacity building and empower from within the Latino community. She also adds her perspective and expertise to various boards around the state, including as a member of the Partnership of Academicians and Communities for Translation (PACT) Council, RMPRC Advisory Board, Catholic Campaign for Human Development Regional Committee, Soul Players of the Valley Advisory Board, and the Chair of the Social Justice Committee at Sacred Heart Catholic Church.
Through all this work, she hopes to amplify people's voices to help individuals find and use their voices. She wants people to be the best versions of themselves and become who they want to be. As well as finding their voice, she also wants individuals to find their perfect home. She is also a licensed real estate agent covering the San Luis Valley for eighteen years specializing in the diverse property options available.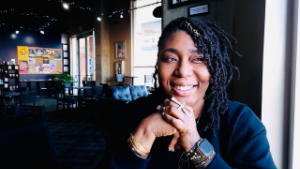 Dianne Myles
Community Investments Manager
AJL Foundation
As Community Investments Manager of AJL Foundation, Dianne understands the impact and importance of her voice in a traditionally white space. Dianne's passion is within the realm of equity. Her goal is to ensure that all stakeholders' voices are heard, honored, and respected.  Dianne spent the early part of her career in HR as a teen mom. She focused her efforts on not being a statistic and giving her two children access. She says that her life has prepared her for the roles she has today as the Community Investments Manager for AJL and the owner of Dope Mom Life, a creative content agency that specializes in diversity marketing. Dianne grew up understanding there were two worlds. The world she lived in with her mom on the north end of town where there was access to wealth and opportunity and the other world on the south side with her dad, where access, resources, and opportunities were limited. Dianne understands that the only way to create a world for all to thrive, more specifically, non-white communities is to recreate systems that were created to oppress. Dianne is a graduate of Emily Griffith and Community College of Aurora, where she studied video production and editing, as well as entrepreneurship.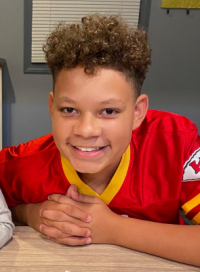 Jeremiah Schmeling
Student
My name is Jeremiah Schmeling, and I am 14 years old. I like sports, food, and being with friends. My goals for the future are to go to college, play college sports, and major in physiology.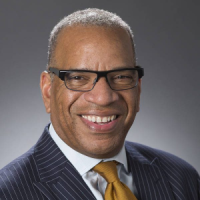 Scot Spencer
Board of Directors
AJL Foundation
Scot Spencer is the Associate Director, Local Policy at The Annie E. Casey Foundation. He leads the Foundation's work in advancing community-focused policies, practices and strategies that increase opportunities for children, families and the places where they live and foster their success. Spencer also coordinates Casey's local advocacy efforts in Baltimore. Before taking on these roles, Spencer managed Casey's investments in East Baltimore, where the Foundation has worked to strengthen community and economic development in a historic, low-income neighborhood next door to the Johns Hopkins University medical campus. He previously was a transportation specialist at the Environmental Defense Fund, where he focused on state-level smart-growth policy and Commuter Choice, a local tax incentive for people who use transit. He also served as deputy director for Historic East Baltimore Community Action Coalition. There, he led the federal Bridges to Work demonstration, which provided job training and placement services for residents in East and West Baltimore, as well as transportation from their neighborhoods to employment centers in the suburbs. In addition, he worked for several years in private architectural practice, community development and university relations in upstate New York. Spencer serves on a number of local and national several boards, including The Funders' Network for Smart Growth and Livable Communities and the Orton Family Foundation, Baltimore Center Stage and Central Maryland Transportation Alliance.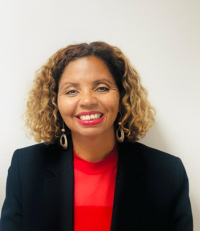 Maya Wheeler
Executive Director and Founder
Wezesha Dada Center
Maya Wheeler is the Executive Director and Founder of the Wezesha Dada Center and has previously served as the Executive Director of the African Chamber of Commerce Colorado, USA. With an extensive educational background that includes an MBA, MHA, and MA, her studies have focused on business administration, health administration, and information management from Webster University. She brings over 22 years of experience in high-level project administration to her current role. Additionally, Ms. Wheeler is a trained Colorado Humanities Conversations Facilitator.
Ms. Wheeler has been a dedicated community advocate, holding leadership positions on various boards and organizations. She has served as President of Colorado Black Women for Political Action (CBWPA), Chair of the African American Initiative of the Colorado Democrats (AAICD), Chair of the Aurora Human Relations Commissions, and Advisor to the City of Aurora Immigrant and Refugee Taskforce. Currently, she serves on the Black Business Advisory Board for the Colorado Enterprise Fund, Respecting Ethnic And Cultural Heritage (REACH) Advisory Board, and Zion Senior Center Advisory Board. As a Native Coloradan, Ms. Wheeler holds a BS in Business from the University of Colorado Boulder.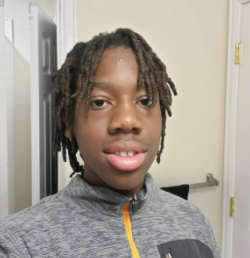 Jessiah White
Student
Age: 14 (02-15-09)
Location: Aurora, CO
Interests: Film, Law, Baseball, Football 
Personal traits: Relaxed, motivated, creative, opinionated, extroverted.
Favorite quote: "I can tell you ain't laughed in a while but I wanna see that crooked smile"-jcole 
Life philosophy: keep it pushing 
Future goals: Major in film, pass down generational wealth