AJL's Q1 2023 impact and financial performance results are in. Read on to find out how we did followed by how we invest and evaluate for impact.

As of 3/31/2023, AJL's portfolio was at $15,333,408.24. AJL was funded in 2011 with $10,845,128 and has distributed $6,763,786 in grants since inception. Here's how our portfolio is invested for impact: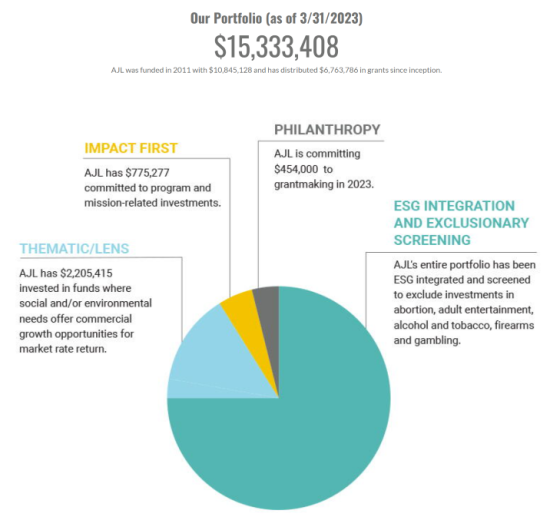 ESG (environmental, social and governance) Investing is a term that is often used synonymously with sustainable investing, socially responsible investing, mission-related investing, or screening. It's the consideration of environmental, social and governance factors alongside financial factors in the investment decision-making process which can help identify material risks and growth opportunities. ESG metrics are not commonly part of mandatory financial reporting, though companies are increasingly making disclosures in their annual report or in a standalone sustainability report. AJL has integrated ESG criteria across our entire portfolio and the snapshot shows how AJL's portfolio stacks up when evaluated based on ESG factors as of 3/31/2023.  (Source: data provided by MSCI Analytics, ESG Research)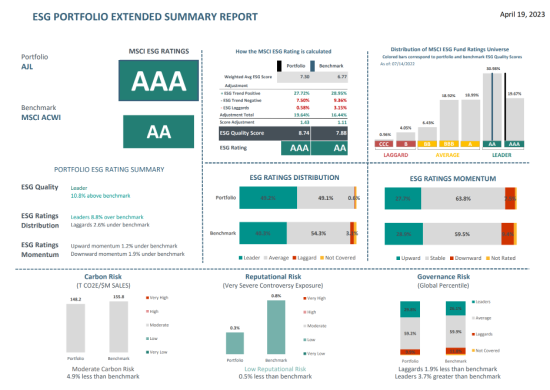 Thematic/Lens Investing focuses on issue areas where social and/or environmental needs offer commercial growth opportunities for market rate return. AJL is investing to support the United Nations Sustainable Development Goals #10 "Reduced Inequalities" and #11 "Sustainable Cities and Communities."  As of 3/31/2023, to support this commitment, 14% of AJL's portfolio was invested in Pax World Global Green Fund, CCM Community Impact Bond Fund and Adasina Social Capital.
Impact First Investments emphasize the optimization of social and/or environmental needs (ie: MRI or PRI) which may result in financial tradeoff. As of 3/31/2023, $775,277 (or 5%) of AJL's portfolio is committed to PRIs. Our goal is to deploy up to 10% of our portfolio, or approximately $1,500,000 in PRIs and MRIs. Visit this page to learn more about AJL's current direct investments.
Cash Impact: AJL typically has cash deposits totaling $500,000 (3%) at two financial institutions, CNote and Native American Bank, that use the cash to drive economic justice in underserved communities. These cash deposits will be renewed in 2023 - 2024. Visit this page to learn more about these investments.
Philanthropic Investments are grants where social needs outweigh any consideration for financial return.  AJL is committing to distribute $454,000 as non-recoverable grants to nonprofit organizations that serve families and youth in education, human services and healthcare. Visit this page to learn more about AJL's grantmaking process.
Exclusionary screening involves filtering out companies based on revenue derived from a specific activity. AJL's entire portfolio has been screened to exclude investments in abortion, adult entertainment, alcohol and tobacco, firearms and gambling.
Diversity and Finance: AJL's core values include diversity and inclusion and it is our intention to invest alongside those values. AJL has made it a priority to include in its evaluation criteria of investment managers the diversity of the investment team and/or management not only because it makes financial sense (diverse teams add value) but also to drive change within the investment industry. As of 3/31/23, more than half (67%) of the investment manager's portfolio management teams have gender and/or racial diversity. 
HOW WE EVALUATE FOR IMPACT
The Impact Management Project (IMP) helps investors classify the impact performance of an investment or a portfolio of investments. Underlying investments are classified by the EFFECT of the investment on stakeholders (people and/or planet) and the CONTRIBUTION of the investor's decisions to achieve that effect. 
The EFFECT of an investment on stakeholders is classified into three categories: avoid harm, benefit stakeholders, and contribute to solutions. The investor's choice of investment strategy is considered a CONTRIBUTION to the effect. There are four investment strategies: signal that impact matters, engage actively, grow, new and underserved markets, and provide flexible capital. These strategies can be used in combination.
AJL Foundation's financial advisor, Syntrinsic Investment Counsel, uses IMP's methodology as a component of the impact score for AJL Foundation. The EFFECT of an investment on stakeholders PLUS the investor's choice of investment strategy, CONTRIBUTION, to achieve that effect on stakeholders equals a PORTFOLIO IMPACT score. In addition, we also score each underlying investment based on the client's diversity criteria. The PORTFOLIO IMPACT score plus the DIVERSITY score equals the TOTAL IMPACT SCORE.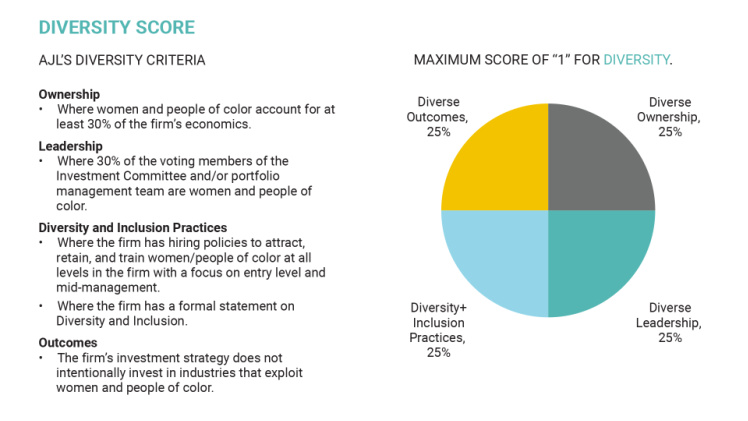 Any questions, thoughts or feedback can be directed to Co-Executive Director Kristi Petrie at kpetrie@ajlfoundation.org. Please don't hesitate to reach out!