The Board and staff of AJL Foundation are thrilled to share that Alece H. M. Montez has joined the AJL Foundation as Co-Executive Director! We can't wait to see how her skills and experiences move AJL's mission forward to serve Colorado's families and youth! Welcome, Alece!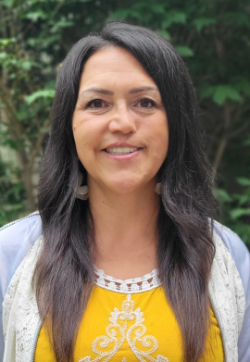 Alece H. M. Montez, Co-Executive Director
Named after three of her grandmothers, Alece is hardwired to advance a more just, creative, and abundant future for everyone, especially communities that have been minoritized and whose voices have been ignored or silenced. As a teen mom who dropped out of high school then went on to be the first in her family to complete college with a master's degree, Alece is honored to bring her life experiences and professional skills to the esteemed work of the AJL Foundation. She deeply understands the power in authentically bridging community and philanthropy to create people-centered change and she has lifted that change up on various boards and committees she's served on including The Funders Network, PLACES Fellowship, Philanthropy Colorado, and more. She deeply respects the integrity of what John and Amy built with the AJL Foundation and the legacy their family carries on today. 

Alece has served community throughout her entire career including city and county planning, Air Force planning, a large urban school district, and was an original developer of and instrumental in scaling up Community Heart & Soul, a rural community building model now being implemented in over 100 towns across the US. She holds a bachelor's degree from CU Boulder in Environmental Design, Urban Planning with two minors, Sustainable Environments and Human Geography and a master's from CU Denver in Public Administration with an emphasis on Environmental Policy, Management, and Law. She is a proud recipient of numerous awards ranging from The Gift of Life from a local fire department to Core Value from the International Association of Public Participation. Alece has been a speaker and panelist at many conferences ranging from the American Planning Association, Aspen Ideas Festival, Grantmakers in Health, Rural Philanthropy Days, and more.